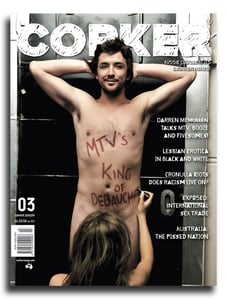 $

10.00
ON THE COVER: Former MTV bad boy (and current host of The Voice) Darren McMullen
If Darren McMullen ruled the world, things would be very different. Firstly, it would not be considered aberrant to take a swig of scotch straight from the bottle before lunch time. You could even count the day as an alcohol-free one if you've had a couple, but not enough to get all your kit off at a party. Monogamy would be a choice rather than an expectation. The preferred dress code for all industry events would be 'stripped bare'. And, rather than being known as a laid-back bunch, Aussies would be famous the world-over for being arrested for disorderly behaviour … but life would be one massive party.
PLUS MORE: Photographer Phyllis Christopher gives us a beautiful look into the LESBIAN MOVEMENT of the 90s // Australia's role in the INTERNATIONAL SEX TRADE // Do young Aussies drink too much? // Has Cronulla recovered from the RACE RIOTS of 2005? // Backpacker postcards: behaving badly at Spring Break // Hangover cures.
60-page print edition
Warning: contains bad language and nudity
FREE SHIPPING in Australia