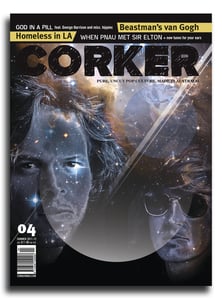 $

15.00
The fourth issue of CORKER magazine is a pop-culture awakening, featuring the best in music, art and lifestyle by Australia's emerging creatives.
ON THE COVER: Pnau's Universe
Since the late '90s, Pnau has been one of Australia's most enduring sources of sweaty, colourful fun at raves. Moving to London to work with Elton John signalled the start of a new grandiose stage in their career, which they unveiled with their latest album "Soft Colours".
PLUS MORE:
Drugs and spirituality // Artwork from Beastman and Guo Jian // ESKIMO JOE on what they'd do before they die // The toxic nature of sex toys // The director behind Blue Juice's granny-pashing music video // HOMELESS IN HOLLYWOOD expose.
60-page print edition
Warning: contains bad language and nudity
FREE SHIPPING in Australia